I need to decrypt 17 Excel files. How do I do that at AccessBack.com and how much will it cost?
Here is the question we received from one of our users. There are 17 password-protected Excel files. The user wants to have them decrypted at AccessBack.com and is asking if he can get a discount.
Yes, we do offer discounts.
In cases like this we stick to the following policy.
Decryption of files is paid for with conditional units that we call credits. One file costs one credit. You can buy more than one credit at once (one or more packages) and decrypt several files thus saving your time. See the current prices on the AccessBack.com: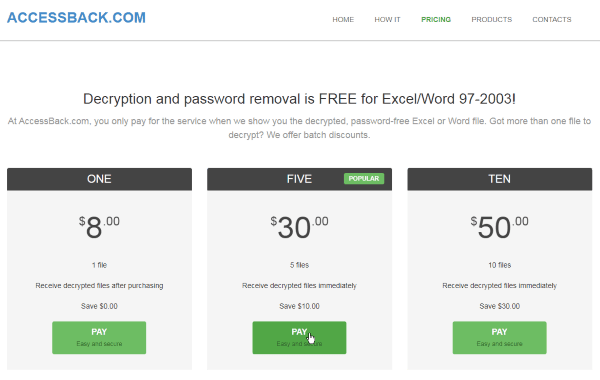 Obviously, paying for each of the 17 files separately would not be smart (8*$17=$136), just as buying an exact number of credits in medium packages (3*$30+2*$8=$106). The best option is to buy two packages of 10 credits each (2*$50=$100). Thus, way you save money and get some spare credits to be spent on decrypting files in future.
You can choose any number of packages in the order form: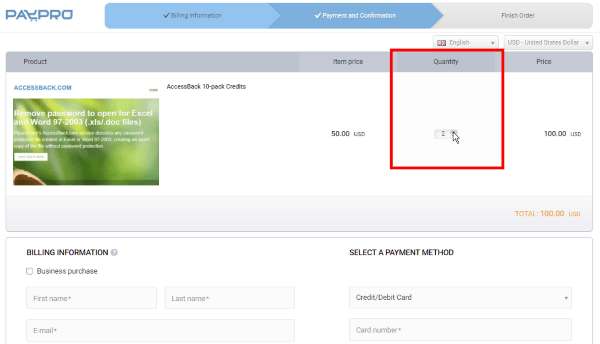 Decrypting Excel/Word at AccessBack.com
Please also note that not all password-protected files can be decrypted without the password.
Therefore, we recommend that you upload your password-protected files and pay only after having your documents successfully decrypted.
See the how-to guide in the video below:
Guaranteed decryption without a password is only possible for Excel/Word files saved in Microsoft Office 97-2003 format compatibility mode. Such files are protected with a short 40 bit encryption key. Normally (but not always) those are doc/xls files. To learn more about it, read our article.
In all other cases you will need to recover the original password. And by password recovery we mean a brute-force search.
When it comes to recovery of Microsoft Office passwords, it is worthwhile testing Passcovery software.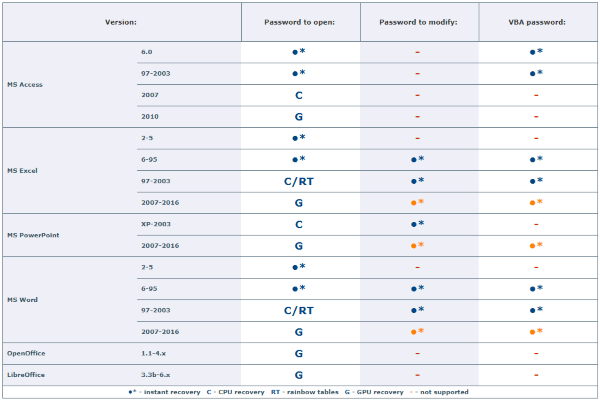 Passcovery tools feature the following benefits:
high-speed brute force search
GPU acceleration on AMD/NVIDIA graphics cards
range customization options (extended/positional mask attack, dictionary attack with mutation, attack scenarios)
supporting all Microsoft Excel/Word versions
Remove forgotten passwords, decrypt locked Excel/Word files, save your time and money – all that is possible with Passcovery software tools.