My password is 8-10 characters long. It starts with a capital letter and ends with a number. How do I set these conditions to crack the password using your software?
In our products, password parameters are configured in the Extended Mask mode (the same principle applies to all programs, and we are using Accent OFFICE Password Recovery in this case study).
Step-by-step instruction
Step 1. Start the program and select your file: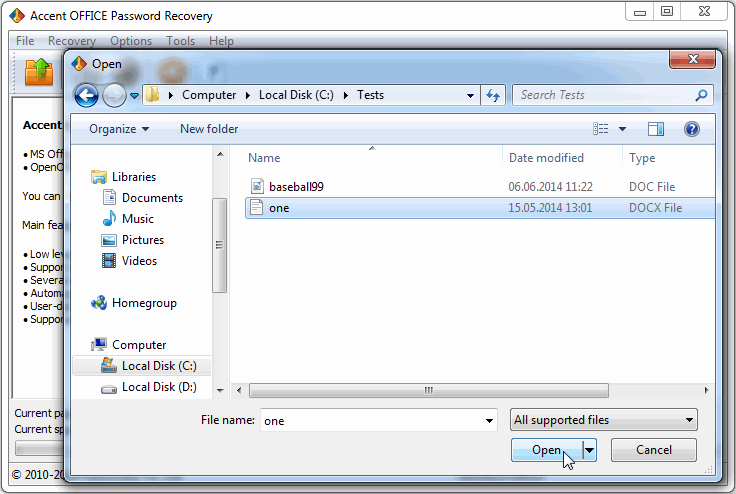 Step 2. Select the "Brute-force with Extended Mask" option:
Step 3. Specify the password length (8-10 characters) and the set of characters for the first and last positions of the password (?c*0?d):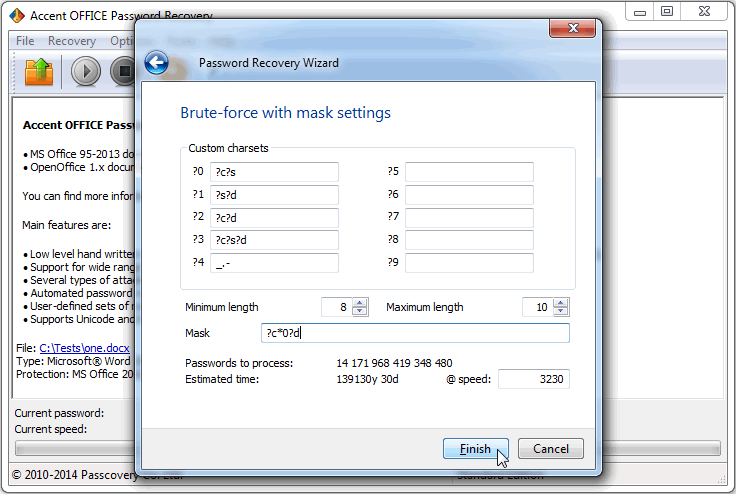 Step 4, last one. Click Finish and wait for the result.
Password mask explained
The mask that you should use is ?c*0?d. Here's what it means:
?c – the password starts with a capital letter
*0 – all unspecified positions (second to the last but one) will contain characters from the first set of characters (by default, these are capital and small letters ?c?s, but you can define your own set)
?d – the last character is always a number 
Password cracking speed 
The speed depends on your computer's performance. Use your video card(s) to increase the speed of password generation and reduce the password cracking time. 
Our programs work with AMD and NVIDIA video cards.