Print Secured PDF
You can't print a secured PDF file unless you have the Permissions password (also called the Master password). Printing is just one of several actions that are restricted by the permissions password.
If you don't know the Permissions password and can't print your secured PDF, you will need software to decrypt the PDF file, reset the password and remove all restrictions on using the file.
We here at Passcovery have developed and tested a tool for that very purpose, and now we're proud to present our latest product: Accent PDF Password Recovery.
AccentPPR instantly resets the Permissions password from any PDF file and removes all restrictions on what you can do with the file. AccentPPR also offers rapid recovery of the Document open password (sometimes called the User password).
How to Unblock Printing for Secured PDFs
You are just a few simple steps away from printing any secured PDF file:
Step 1. Download and install PPR. The installer file bears the Passcovery digital signature and contains no viruses or malware:
Step 2. Launch AccentPPR and select your secured PDF file. The software will analyze your file's encryption. If it detects a permissions password, it will offer to decrypt the document, delete the password and remove all restrictions: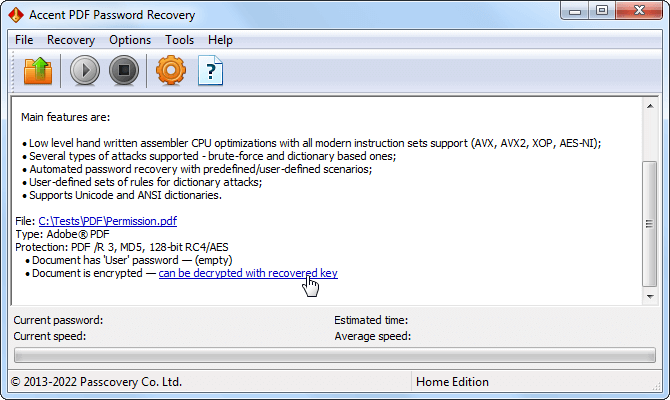 Step 3. Save the decrypted PDF file. Select the folder on your computer where you want AccentPPR to save the password-free decrypted PDF file: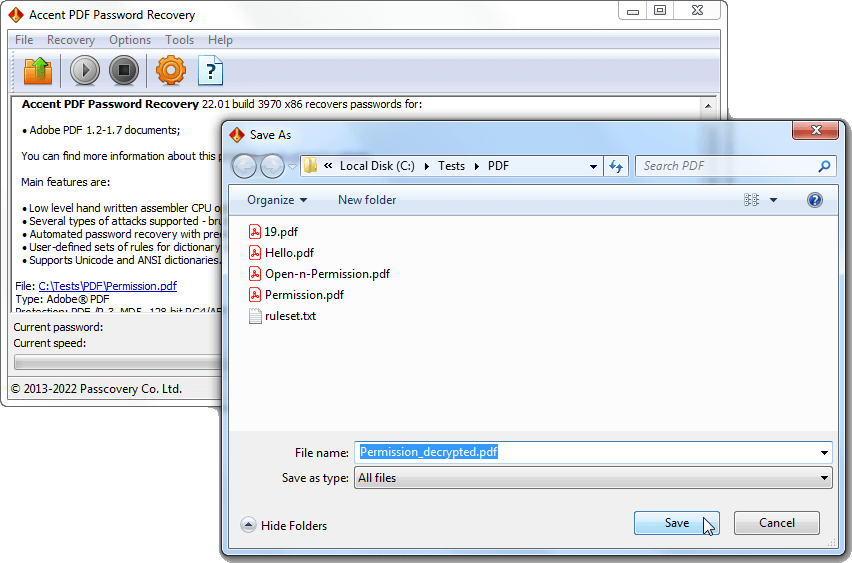 Step 4. Print the new PDF. AccentPPR will notify you that the decrypted PDF file has been saved and will show you a link to the file. Click on the link to open the PDF in Adobe Acrobat. Now you can print the PDF with no restrictions!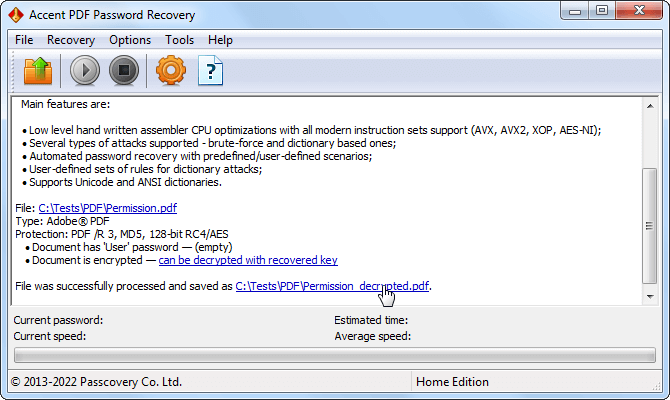 Password Protected PDF
Adobe PDF uses two kinds of password protection for the data:
Document Open password (User password). This password prevents you from accessing the PDF file. You can't even open the file unless you know the Document Open password. AccentPPR offers three types of attack against Document Open passwords
Permissions password (Master password). The permissions password restricts what you can do with a PDF file. You can open the file and view its contents, but you may not be able to save or print the secured PDF. AccentPPR instantly removes master passwords, no matter how long or complex
Accent PDF Password Recovery Benefits
Full support for PDF files created in Acrobat 1.0 - Acrobat XI
Instant removal of Permissions passwords
Fastest PDF Document open password recovery speeds
Cool features that save time when recovering passwords
Simple interface, just install and start working
VIDEO: Quick PDF password recovery with AccentPPR