Excel Password Recovery Tools
Here's a bit of user feedback about Accent EXCEL Password Recovery:
"Great product. Saved me 5 hours from rebuilding the spreadsheet. Easy to use. Highly recommend."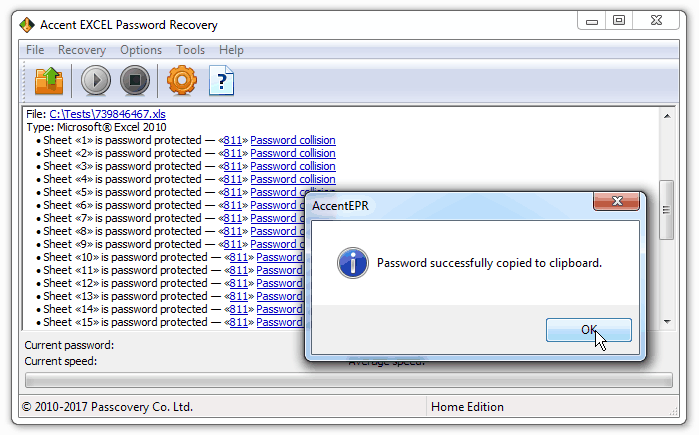 Pic. 1: AccentEPR instantly recover lost passwords for Excel spreadsheets
Helping others feels so great! Perhaps we can help you as well. Passcovery offers a wide range of efficient tools.
Accent EXCEL Password Recovery
AccentEPR is a Windows application designed to recover passwords to Microsoft Excel files (xls/xlsx).
Benefits of AccentEPR:
Supporting all versions of Excel format
Instant recovery/removal/replacement of weak passwords
Three types of attack on "strong" open password (brute force attack, extended mask attack, dictionary attack)
Range manipulation option
Program limitations:
GPU acceleration is not supported on AMD/NVIDIA for Excel 2007-2013+ files
Searching for encryption key is not supported for Excel 97-2003 files with 40-bit encryption
What AccentEPR is best for…
When it comes to certain types of Excel format and passwords AccentEPR is the best solution. No other password cracker or service can do better or faster.
AccentEPR is especially good at recovering the following passwords:
Spreadsheet password — instantly in all Excel versions
Password to modify — instantly in all Excel versions
Macro VBA password — instantly in all Excel versions
File open password — instantly in Excel 2-95
File open password — maximum speed in Excel 97-2003
AccentEPR might not be the best solution for…
AccentEPR supports all Excel file formats and can recover passwords to any xls/xlsx file. But in some cases a better solution is available.
Password to Open Excel 97-2003 (40-bit encryption key)
If you need to open a file saved in this format you don't have to search for the password. In this case it is easier to find the encryption key and decrypt the file. Accent OFFICE Password Recovery is the right tool for the job.
What's even faster (and cheaper!) is to get a file decrypted at AccessBack.com.
Password to Open Excel 2007-2013+
Brute force attack on this kind of files can be accelerated on graphics cards. Scanning combinations on GPU may run dozens of times faster rather than on CPU. Graphics card processing is not supported in AccentEPR.
However Accent OFFICE Password Recovery and Passcovery Suite do enable GPU acceleration on AMD/NVIDIA for Excel 2007-2013 files.
Passcovery offers the following password recovery tools: