Excel Password Cracker Found a Sheet protection password. But It Is Different than the Original One. Why?
In fact password cracking software tools by Passcovery do not search for the original Excel Spreadsheet protection password. Obviously it would take unreasonably long to do so.
Instead our tools instantly find the nearest available combination of characters (password-collision) sufficient to remove protection from an Microsoft Excel 95-2013 spreadsheet and then suggest to use that combination as a password.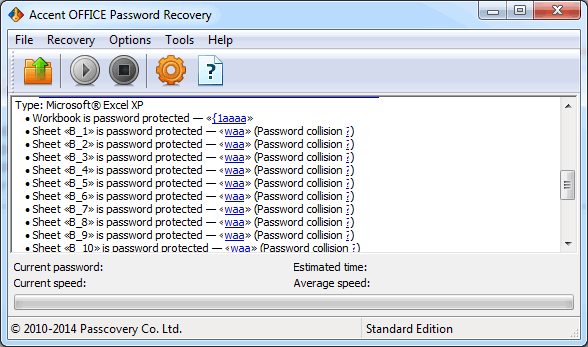 Due to Excel specifics password-protected sheets are not immune from such tricks which is successfully utilized by our software. Though it can't find the original password our software can easily find a valid one in no time and successfully open your file.
By the way that works for all Excel editions.
The following tools support instant recovery of Microsoft Excel spreadsheets passwords:
VIDEO: Password Recovery for Excel 95-2013 with AccentEPR