Passcovery Suite has all new updates:
Support for NVIDIA Kepler GK110 architecture

. Now the software runs on NVIDIA GeForce GTX Titan and Tesla K20/K20X graphics cards for blistering fast speeds

Easy-to-use Password Mutation Rules Editor

makes it simple to master the built-in macrolanguage for customizing dictionary attacks

Interface now available in Chinese
Password Mutation Rules Editor
Passcovery Suite has a built-in macrolanguage for creating mutation rules for the words used in dictionary attacks. This lets the user vary each word from the dictionary according to a customizable set of rules.
Here's an example using the word "StrongPassword":
Vary the capitalization: "sTRONGpASSWORD" (macro: $w.t)
Remove double s's: "StrongPaword" (macro: $w.xs)
Replace the letter "s" with a $: "StrongPa$$word" (macro: $w.ss$)
Passcovery Suite includes over 20 macros for mutating words in a dictionary attack! We added the Password Mutation Rules Editor to make it easier to create and modify rules (learn more about our built-in macrolanguage).
The Password Mutation Editor applies rules on the fly and displays the results for immediate review. Helpful hints make it even easier to get results: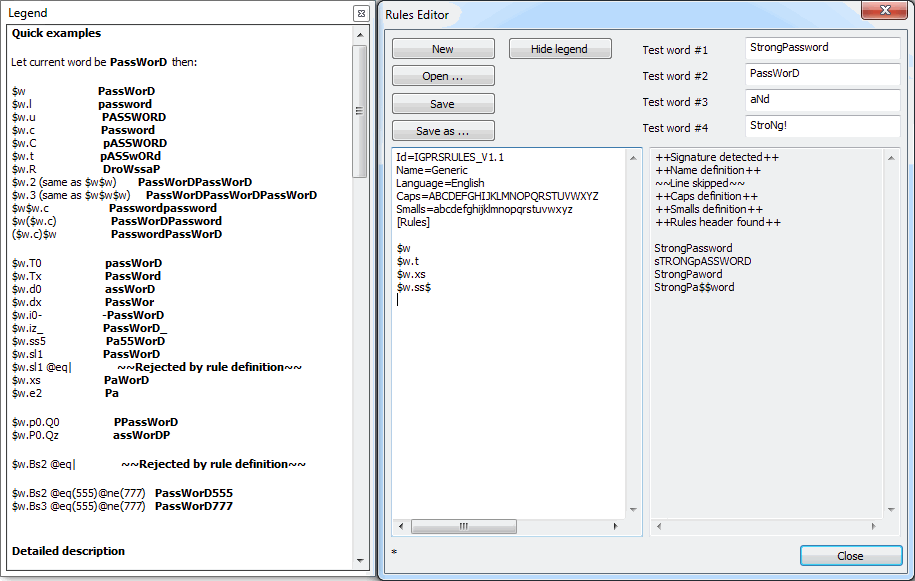 Dictionary Attack
The dictionary attack, which involves running through a set of words saved in pre-set dictionaries, is one of the fastest and most popular password recovery methods. Passcovery Suite leverages dictionary attacks to recover the following types of passwords:
Microsoft Excel 97-2013
Microsoft PowerPoint 2007-2013
Microsoft Word 97-2013
OpenOffice (all versions of the format)
Zip archives (classic encryption and WinZip AES encryption)
RAR archives (3.x format)
Apple iOS 4.x/5.x backups (used in iPhone 3G, iPhone 3GS, iPhone 4, iPhone 4S, iPod Touch and all versions of iPad)
BlackBerry 5.x/6.x backups (used in BB Curve, BB Bold, BB Torch, etc.)
TrueCrypt volumes (used for data encryption)
WPA/WPA2 handshakes (used for security purposes in WiFi networks)
Download Free Demo Version | Buy License
---
Press-Release: Passcovery Suite 2.1: Multi-format Password Recovery on the Latest NVIDIA Titan & Tesla Graphics Cards