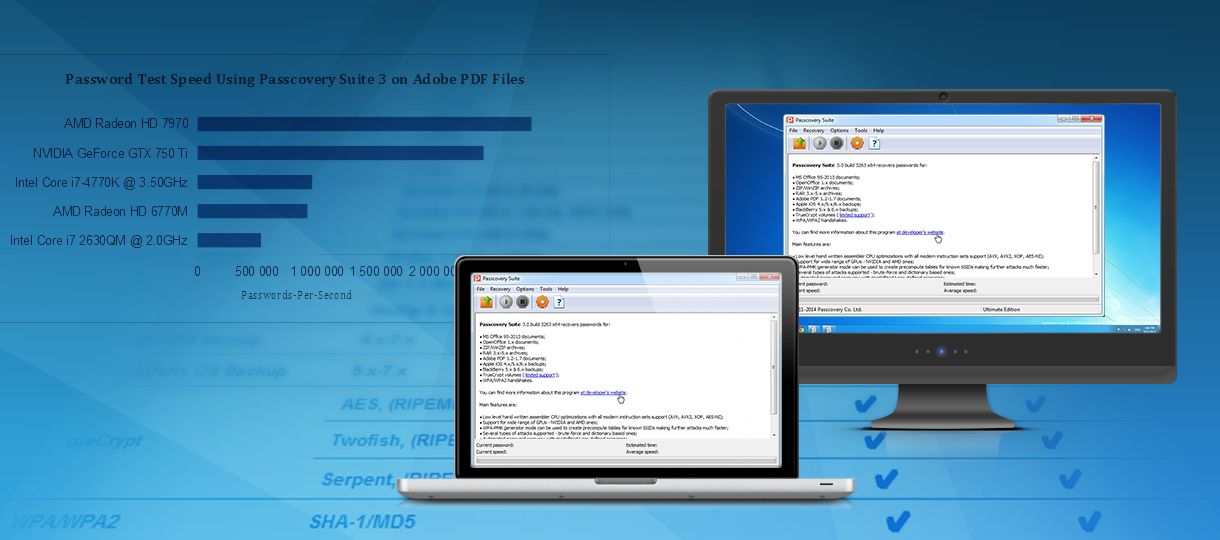 Passcovery Suite
The professional GPU password recovery solution for Microsoft Office/ OpenOffice/ Adobe PDF documents, ZIP/RAR archives, Apple iOS/Blackberry back-ups, TrueCrypt volumes and WPA/WPA2 handshakes. Broad file format support. Remarkably fast password recovery. Optimization for AMD/ATI and NVIDIA video cards for a 40 times speed boost.
Why Passcovery Suite

Supports popular file formats
Passcovery Suite is your one-stop solution for recovering passwords to your files: Microsoft Office, OpenOffice, Adobe PDF, RAR and ZIP formats, Apple iOS/Blackberry back-ups, TrueCrypt volumes are all supported. All in the same product. All for one reasonable price.

Optimized for your CPU
Passcovery Suite takes password recovery speed to the next level on your Intel or AMD processor. The program's code determines your CPU type and adjusts to squeeze out the maximum performance.

Flies on your GPU
Your computer's video card helps Passcovery Suite to go even faster. Our program uses GPU password recovery whenever possible on AMD and NVIDIA video cards.
News
Testimonials
David ***, Israel:

Good software, good customer support. those guys know what they are doing.
Keep up the good work.
Jun ***, China:

The software is very powerful.
Jose Moreira:

Thank you, I would recommend this software for anyone that needs a file password recovered.
Giancarlo Buletti, Switzerland

The app worked perfectly and we got our forgotten password again!
Mike P., Australia:

Very effective. I had a RAR file with a 6 character password. Told software to select method automatically. Found password inside 5 minutes!